Please click the links below to download the associated PDF as required.
---
Woolworths Principles and Policies
Contractor Documents
Woolworths Safety Induction Modules
General Safety
General Safety + Cleaning
General Safety + Trolley
General Safety + Cleaning + Trolley
Note: To complete the induction and assessment questions, your employer must book you in through the registration portal. More information available on the Inductions page.
The General Safety induction module is to be completed by everyone who wants to work on a Woolworths site. You may be required to complete extra modules depending on the type of work you'll do.
Combinations of the above induction modules are available in the bookings portal if your role includes more than one task or area.
Workplace Training Cleaning & Trolley Collection
Help Documents
Video tutorial for booking inductions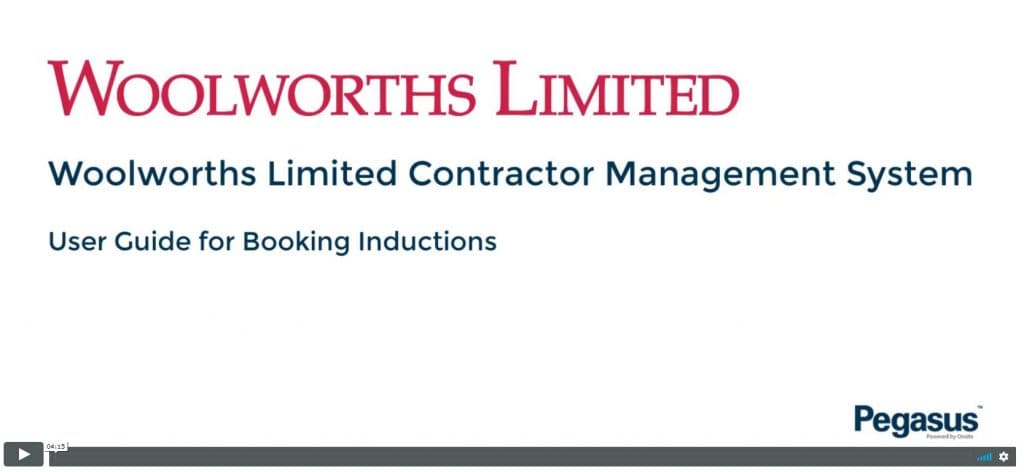 Useful links to help you with your Safety Management Review
Helpful Resources
This Knowledge Base includes steps to help an administrator check company compliance, search for and edit employees, run reports on competencies or work hours, and create users, among other helpful tips. This process can be completed in Onsite, the Pegasus software that powers the WOW Contractor Management System.
The Business Rules specify the requirements of the documents you upload in the system. Ensuring your documents meet these requirements will save time and have your workers approved faster.
Complete and return this form if you have a new worker who is already registered to a different company in the system, and you need them added to your company. Workers can be removed from your company by an administrator directly in the system. Instructions on how to complete this process are available under the End Employment sub-heading of this page: https://kb.pegasus.net.au/display/OCCS/Person