Information for companies and business entities
Companies or business entities working for Retail FM must register in the Retail FM Contractor Safety Management Portal.
To prepare for this registration process, you'll need copies and details of the following:
Insurances such as Workers Compensation and Public Liability
Company Trade Licences
Safety Management System (SMS) documentation or AS4801 compliance information
To start, Register Now.
Download the Retail FM Portal User Guidelines_Companies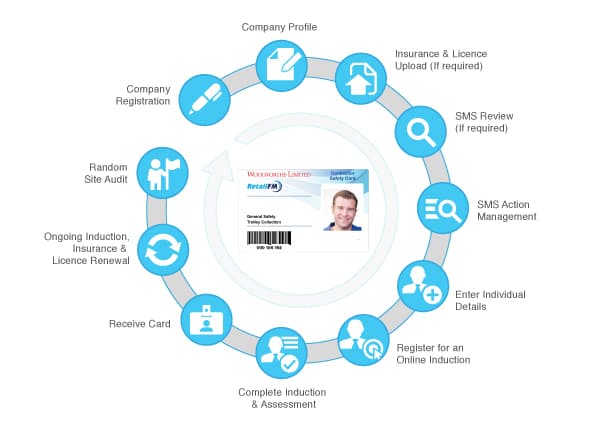 FAQ's
Q: My company contracts for Retail FM on Woolworths Ltd sites. What do I need to do?
A: You need to register your company via the online portal. Please Register Now to get started.
Q: Who do I contact if I have questions about registration?
A: You can contact Pegasus on 1300 291 561 during business hours or email safetycompliance@pegasus.net.au
Q: I'm uploading my documents but I can't get my file size under 2MB. What do I do?
A: Try using this online tool to compress your PDF.
Q: What if my username and password for the portal doesn't work?
A: Your username and password are case sensitive. Try copying and pasting from the email you received (ensuring you don't copy any spaces). If this doesn't work, please call us on 1300 291 561 or email safetycompliance@pegasus.net.au
Q: What if I haven't received my username and password for the portal?
A: Please check your junk mail first. If you still haven't received it, call us on 1300 291 561 so we can confirm your email address and re-issue your login details.
Q: What if I forget or lose my password?
A: The portal can email you a new password if you've forgotten or lost yours. Click on Forgot my Password on the login page and you'll be emailed your password.
Q: I need to change the user access for our company. How do I get new login details issued?
A: Please contact the help line on 1300 291 561 or email the new user's name and email address to safetycompliance@pegasus.net.au
Q: How is our data protected?
A: Please refer to the Privacy policy.
Q: How do I pay?
A: Secure online payments are available through the Retail FM portal via credit card. Visa and MasterCard are accepted.
Q: Are my credit card details secure in the portal?
A: Yes, the system uses https SSL certificate encryption with a 2,048 bit key. Your credit card details are sent by an encrypted SSL connection and are not retained in server logs or browser history. Because we don't retain any credit card information, you must re-enter your card details each time you make a purchase in the portal.
Q: How long is my company registration valid for?
A: Registration is currently valid for two years.
Q: How often do I need to provide my company insurances and licenses?
A: You must provide licenses and insurances relevant to the work you perform on Woolworths Limited sites. These will be collected when you register through the contractor portal. When they are expiring, you'll be emailed a reminder that renewal is due and be asked to provide updated policies or licences. If your company changes the type of work they perform for us, you may need to provide additional documentation. You must ensure your insurances and licenses are kept current in the system so your company stays compliant. There's no charge for updating insurances and licenses.